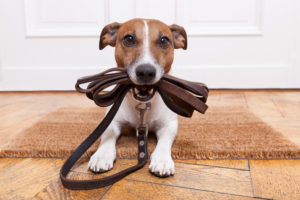 A Pet fee of $300.00 per pet, not to exceed 35 lbs. at mature weight ($400.00 for pets over 35 pounds-upon approval), is required by the office, solely for the privilege of having a pet in the apartment. The fee for a 2nd small pet is $200.00 upon approval. No pets shall be allowed to occupy premises unless provided for in the lease agreement, pet tag assigned, photo provided, and pet fee is paid. The pet fee is non-refundable and does not cover any damages that may be caused by the pet. The pet fee is non-transferable in the event that you decide to move to another apartment within the community. All pets must wear an identification tag.
When pet is outside of your apartment it must be kept on a leash at all times. Pets must be housebroken (trained to urinate or defecate outside the home or in an acceptable place indoors). Pet must be taken a minimum of 10 feet from the buildings to eliminate their waste. Owner is required to pick up and dispose of pet waste immediately. Owner will be fined $100.00 per occurrence for improper disposal of pet waste. Pets are not allowed in the playground, pool area or laundry facilities at any time. Pets are not permitted to be tied up on the property at all.
You agree and understand that periodically apartment inspections will be made to determine the condition of the apartment in regard to your pet. If your pet damages or destroys our property you agree to be financially responsible for repairing or replacing any damage caused by your pet. You agree that if in our opinion solely, your pet is disturbing other residents or causes damage to property, you will permanently remove your pet from the premises within a maximum of 7 days upon request of management.  Extreme circumstances can dictate removal of pet within 24 hours.
The following breeds/mixed breeds are not permitted: Rottweiler, Doberman, Chow-Chow, American Bull Dog or any Pit Bull-Type dogs. If the breed of the pet is questionable, you may be required to bring in verification of pets breed. Only two pets are allowed to occupy each apartment, which their combined weight cannot equal more than 65 pounds. In the event that your pet moves from this apartment or becomes deceased, you may not replace your pet without consent of management. Pet-sitting and visiting pets are not allowed, only an approved pet is to ever enter the apartment. If an unapproved pet is on the property, the resident will be charged a Pet Policy Violation Fine of $200.00 per pet. This is a fine and is charged in addition to the pet fee(s) stated above.
As always, if you have any questions, please contact our office.